The unadorned elegance of nature is showcased in the Shibui collection. Each piece is a unique showcase of the beauty of nature.
Posted on March 22, 2013
by John
---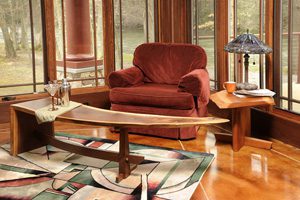 A curved natural edge slab of walnut created the opportunity for this design. The base features a waterfal leg on one end and single upright on the other. Joining the two is a curved laminated stretcher. In the background you will also see a cherry sagaku table .
Continue reading...